Date published: 2020-05-28
IT Security - Google Trends 2020
Google Trends
Q1: What can Google Trends reveal about the future of IT Security?
Q2: What can Google Trends reveal about changes in IT Security sector?
Google Trends have revealed the best-known names and brands in the world of cybersecurity and shown this sector is changing.
Every year, Google publishes the most searched names of artists, sportspeople or events. However, these used keywords can give an insight in almost every sector, including IT security.
Cybersecurity keywords analysis
The company, Redscan, has conducted Google data analysis of the most searched names, companies and themes in relation to Cybersecurity in the last 15 years. Besides this, they have looked at the popularity of these words and the changing trend of the lingo.
For instance, while 15 years ago, people used to google phrases such as network security and computer security, their popularity has significantly decreased in the second half of the last decade and has been replaced with the phrase 'cybersecurity'.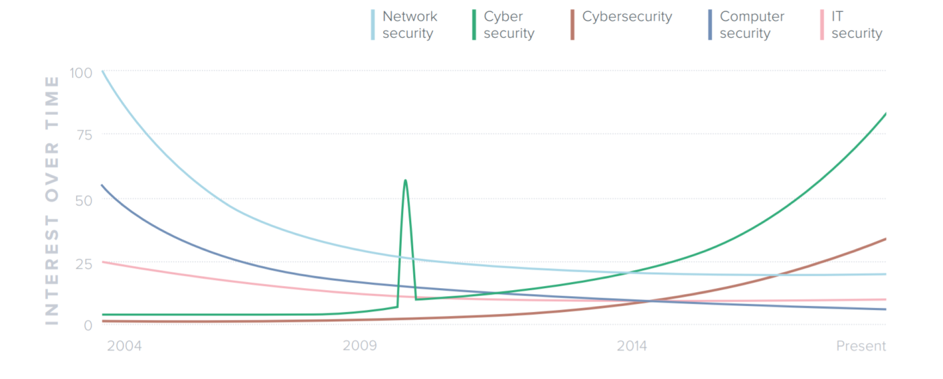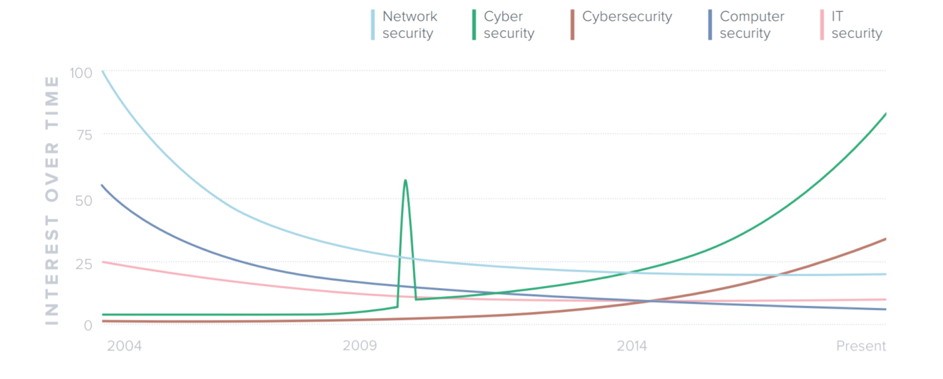 Most searched IT Security names and brands
In Slovakia, besides well-known Eset's co-owner, Miroslav Trnka, the next most popular name in IT Security sector is probably Kevin Mitnick. Nonetheless, he has placed third in the most searched names. The first was Kevin Mitnick, a founder of BRAK Systems, which was sold to AT&T. This though could be potentially due to his reality show appearance rather than his Cyber Security background. The first place should have really gone to John McAfee, the founder of well known anti-malware software.
The most searched brand in IT security is Norton, following by Avast, AVG and Kapersky. Slovak's ESET has placed fifth. From B2B companies not supplying consumer products, the most searched were Symantec and Fortinet. Among hackers' groups, Anonymous has attracted a lot of attention in recent years.
Security incidents searching
From many internet's security incidents, the one that made history as one of the biggest data breach, was definitely an Equifax case. Their hackers have stolen personal data of around 150 million Americans. When this was published in September 2017, there was a dramatic increase in phrase, 'data breach'. The same scenario has repeated in autumn 2018 for Marriott, the hotel giant, as their data breach compromised customers' personal information. This year EasyJet says hackers stole data of 9 million customers.
Besides names, companies and significant events, Google Data analysis also shows the impact of different technologies on IT security. While 15 years ago, anti-malware softwares and firewalls played a main role in protecting against cyberattacks, nowadays, these are not sufficient enough. As a result of this trend, though the search for these keywords is declining, demand for phrases such as, SIEM (Security Information and Event Management), cloud security, IoT security as well as AI security is rising.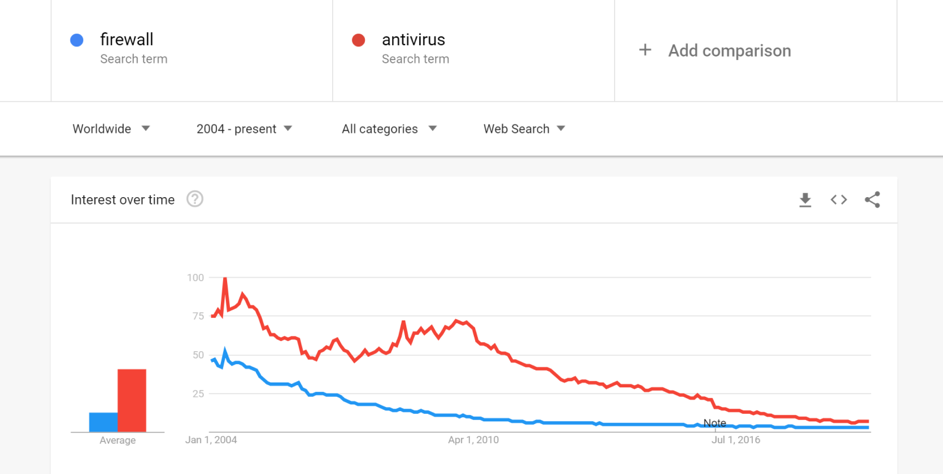 Security threats trends changes
Naturally, demand for security technologies depends on changing security threats trends. For example, words 'spyware' and 'keylogger', which is a software detecting the keystroke typed on a specific computer's keyboard and enables the attacker to access foreign passwords, was prevailing in 2005, but have almost disappeared from the search box today. Among new terms are crypto jacking and ransomware, which have peaked during WannaCry attacks. Surprisingly consistent was also a demand for the keyword DDoS, during the past 15 years, as the number of this type of attacks has significantly increased.

IT Security jobs searching
Last but not least, Google data reflect a demand for people in technology sector. There was a significant increase in demand and search for new job positions and salaries in this sector and in second half of this decade.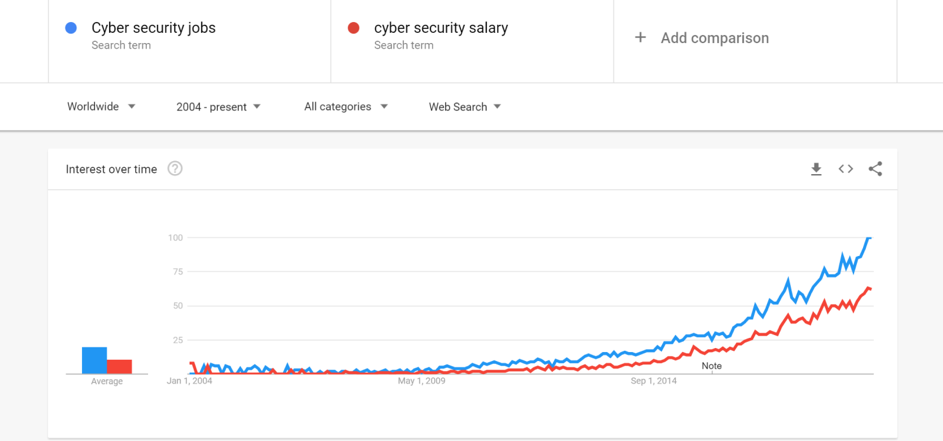 In conclusion, Google trends reflect the changes in recent years such as introduction of new types of security threats as well as new security technologies, without which the corporate and public sphere companies would not be able to get ahead. It is unfortunate that these trends cannot predict the future, although some can be analysed from the past tendencies.