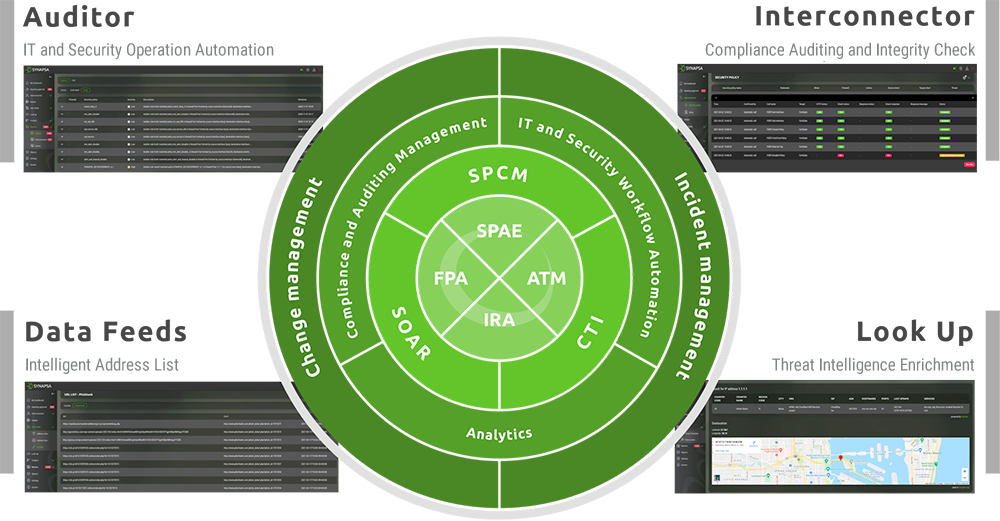 For many organisations Incident handling process is very complex. The increase in alerts and events, year-over-year, together with increased security tools and a lack of skilled experts, resulting in inadequate response to daily business security threats. IT and SecOps experts need to be aware of all tasks, alerts, accurate policies, analyse all relevant events (often manually), check for false positives and decide the appropriate response or further steps. Then IT and Security Operations need to get approved through the Change management process.
Nowadays it means rapid increase in number of endpoint devices, tools and applications which organisations migrate into the clouds and cybersecurity threats, or operational issues happen on daily basis. IT and Security Operations making policy changes manually what leads to wasting of time. Synapsa platform provides intelligent software application which helps to save significant workforce during Change and Incident management procedures.
Key features
Real-time compliance monitoring
Synapsa Auditor will make sure your firewall ruleset and configuration has no hidden caveats which could invite attackers into your organization. This check will be happening constantly, every second, to make sure your organization is safe.
CIS Benchmark compliance in minutes
Ensure your devices are configured according to the CIS Benchmark best practices literally in minutes. Synapsa gives you exact cli commands to fix your configuration issues, all effortless and real-time.
Out of the box event parser
Gives you the ability to send any event from any device to Synapsa interconnector, without expecting you to parse and extract the interesting data out of the raw syslog.
Comprehensive API toolbox
Today's world is all about integration, cooperation and automation. Synapsa gives you ability to interconnect your legacy, syslog exporting devices, to talk to the new API capable gear to take an action you need, not to bother your engineers with task machine can do quicker and automatically.
Out of the box data feeds
The internet is a dangerous place full of malicious URLs, IPs and files. Synapsa collects all the feeds based on your needs, converts them to standardized format, which your firewall understands, to block malicious traffic before breach or even command and control communication happens.